The Sublette County Journal, was published in Sublette County from 1996 until February, 2001, at which time the owners purchased the competing Pinedale Roundup newspaper. It contained a unique mix of news & feature stories on local history, personalities & events. Selected stories from the Journal were reprinted on the Pinedale Online web site each week and have been archived for future reference.

The Journal story archive can be found at:
JOURNAL NEWS ARCHIVES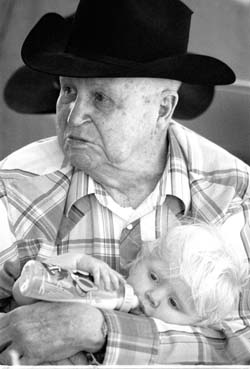 Living 81 years in Sublette County
81 year old Chuck McWilliams contentedly holds his great-great niece, one year old Shala Wright at the Old Timer's Picnic in Daniel.
Photo by Cris Paravicini